Factory Orders Made Easy
As a small business, we work hard every day at Westward Ford to create the best experience for our customers, this means offering a one-of-a-kind experience when making a factory order. It's as easy as 1,2,3!
Steps To Ordering Your Dream Vehicle:
1. Schedule an appointment by calling us in
Portage 204-8573912 or Neepawa 204-476-2391
2. Customize your ride with our expert sales team
3. Take delivery of your new ride
---
From Factory To You
You're In The Drivers Seat!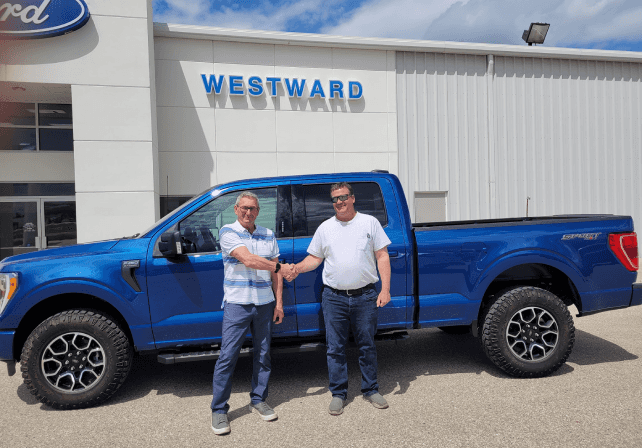 We're here to help before, during, and long after your purchase — making sure you enjoy the full value of your investment and have all of your family's vehicle needs taken care of for years to come.
Benefits of Factory Orders
You pay only for the features you want and not for those you don't want. It's tough to find a vehicle on the lot that matches this test. A standard package may lack some options you have your heart set on and include others you don't care about.
You get to choose every last detail from engine size and suspension to seat material and exterior colour!
Vehicles in general are in short supply. Thanks to the global microchip shortage, dealer inventory is lower than it's been in a long time. Pre-ordering expands your choices beyond what's on the lot.
You have the satisfaction of seeing your ideas and tastes come to life in a real live personalized machine you'll drive every day. You've played that car-spec game where you swap features in and out until the result is just right. With pre-ordering you win that game!
WILL I HAVE TO PAY THE STICKER PRICE?
Not necessarily. Prices are negotiable, the same as with vehicles that are already on the lot. Remember that pre-ordering saves the dealer a little money. They don't have to pay insurance, lot fees and carrying fees for a car or truck that's sitting on the lot waiting for the right buyer to come along. You can also take advantage of manufacturer incentives and deals, although they generally won't be applied until the vehicle actually arrives at the dealership.
CAN I ORDER A LEASED VEHICLE?
Yes, you can. If you're currently leasing, you can time the pre-order so that the new vehicle arrives right when the old lease expires. If you're not leasing, you'll know exactly when you need to sell your old car.